Vystava JAPONSKO

EXHIBITION IN JAPAN
December
2008

Author's exhibition of paintings in Japan in 1999.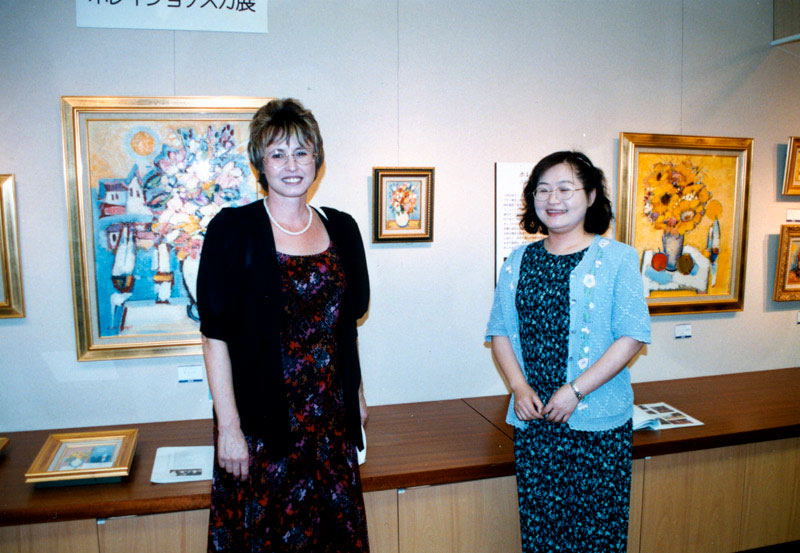 pro více fotek klikni sem
After almost twenty-years of cooperation with the gallery Towo Art Centre I received an offer to exhibit 80 paintings in Tokyo along with an invitation to Japan for 22 days. The Japanese are always precise and they had a programme ready for me for every day of my stay. There were always vernissages and then a few days of sightseeing. I have to admit that I took my husband with me, because I wanted to share the beautiful experience with him.
We stayed in a skyscraper with 35 floors, built so that it can withstand earthquakes – in Japanese standards a 3 + 1 flat with two loggias. There was a guard at the entrance, he greeted and welcomed us and exquisite music was playing there, while a fountain was spurting water.
From cities, we saw Tokyo – a clean city with disciplined people, the Ginza quarter with expensive shops.
Modern skyscrapers and old, low buildings next to them, where you can see all the way to the bedroom from the front door and the garden is replaced by a small bonsai in a pot. The shoes are meticulously lined up next to the entrance.
As it was the second half of September, it was, in our terms, stifling hot and humid at 38°C.
We visited a number of sights, a sea aquarium, temples, pubs.
The fact that we were in Japan, was something I should have felt earlier personally. It is a country where the wife walks three steps behind her husband and does not talk if he is talking. I experienced that during one of our visits, the lady of the house didn't utter a word, and when her husband spoke – she only nodded in agreement. Upon arrival, Mr. Hirasawa – the director of the gallery told us that I will receive an expense allowance. Hurrah! It was around 30 000 of our money – that will always come in handy. Mr. Hirasawa paid the amount on the table and then turned to my husband to confirm the acceptance of money with his signature!! I was shocked, when a woman is with her husband – she has almost no rights. My husband really did sign it and I tucked the money into my Portman with mixed feelings.
The exhibition of my paintings looked fabulous. The spacious exhibition hall ISETAN SHINJUKU, even visitors came, I bumped into posters that invited people to it – several gallerists were also invited. Some collectors, who already had my paintings for several years came to greet me and have their picture taken with me. Tables were sinking under the volumes of wine and refreshments. I had the ever-efficient Petr Hole as my interpreter, because the Japanese kept on asking about things concerning the paintings. Petr had already been living in Japan for several years at a school and knew Japanese better than Czech. I had about 80 pictures on display.
We strolled around with Petr, sipped wine and once in a while an art lover stopped to ask – what is this or that on a painting. I talked about how I paint en plein-air and that this is my garden and those were the flowers I got for my birthday…and who the glasses in the background belong to. And Petr interpreted and interpreted and then one Japanese lady began talking with him about one painting. I was curious about what she was asking about and he told me that he had already made something up. Working with him was great. He also brought a Japanese woman to the exhibition, who he wanted to marry.
We sold about 27 paintings with Petr.
I really liked the sights in Japan. We saw everything interesting in Tokyo. We even took the schinkanzen – a great little train which transports about 95% of the men to Kyoto. In Nara we saw the Siko deer, they really do walk freely along the streets and the main thing is they have learnt how to beg. If you don't give them anything, they are aggressive and butt you.
Yokohama, as a port city, made a huge impression on me. It is a big beautiful city with kind people.
What was a great pleasure for me in Japan was the food. It is very tasty, fresh and available on every corner. Our gallerist Mr. Hirasawa wanted to show his respect for me and ordered me a really, really fresh fish. When he presented it to me, to my horror I discovered that the fish, however partially portioned, was still breathing!!! I told the gallerist excitedly and he proudly responded – yes, it is truly fresh and its heart is beating!!! Poor thing, I couldn't even touch it and so the gallerist ate it with my husband who pointed out that the war with the Japanese couldn't have been much fun.
Three weeks flew by and the departure day was slowly approaching. A vernissage was held on the last day at around five o'clock. I promised myself that I would go straight from the vernissage to buy some gifts for the children and friends at home and I already knew where I would go. My pocket was full of expense allowance money and my pocket money – a nice sum and so I got the urge to spend. We were just going from the exhibition along the escalator in the underground and we were heading for the street with the gallerist Mr. Hirasawa. My husband was riding on the escalator with the gallerist and without even asking me what I would like – he told me that he and Mr. Hirasawa had decided that we would go for a beer to the highest skyscraper in Tokyo. I was stupefied – and now all my shopping and gift plans were ruined!!! I turned around on the escalator upwards, where the two were riding and I sent them a look of an angry woman – Mr. Hirasawa was clearly startled.
I will always remember Japan fondly. It is my promised land. I have many paintings there among collectors and I am sending more. I also like their beliefs – for example, that a yellow bouquet of flowers brings luck – and so I try to paint a lot of cheerful, primarily yellow bouquets.